Tripods - Low Position Back to Notes on Photography
by Makoto Honda January 26, 2008

I am always interested in a tripod that gives me a close-to-ground shooting position.
Here are the tripods I own that fall under that category.

From left to right:
1. Gitzo (made in France)
2. Velbon ULTRA MAXi mini + QHD-51 head (Ken - http://photo.site-j.net/tubuyaki/tubuyaki.html)
3. Manfrotto 482 (made in Italy)
4. Leitz Tabletop Tripod + Leitz Large Ball-and-Socket Head (made in Germany)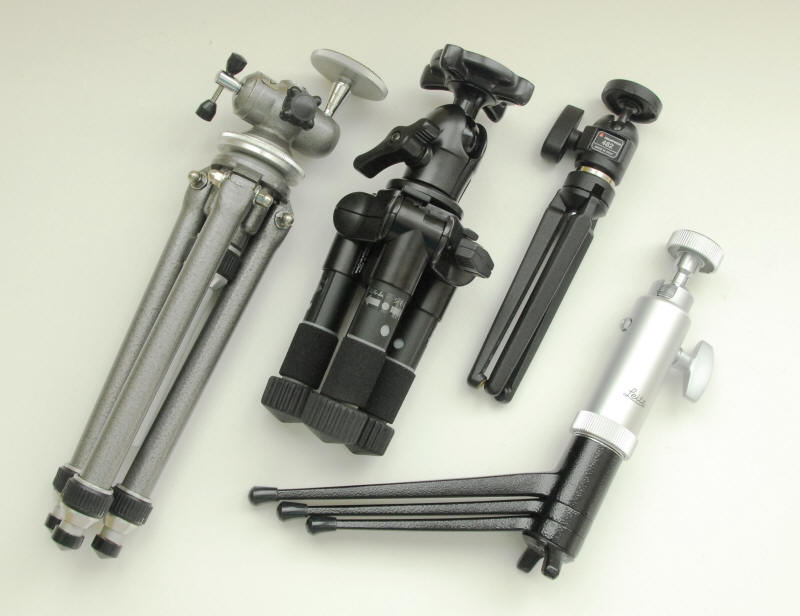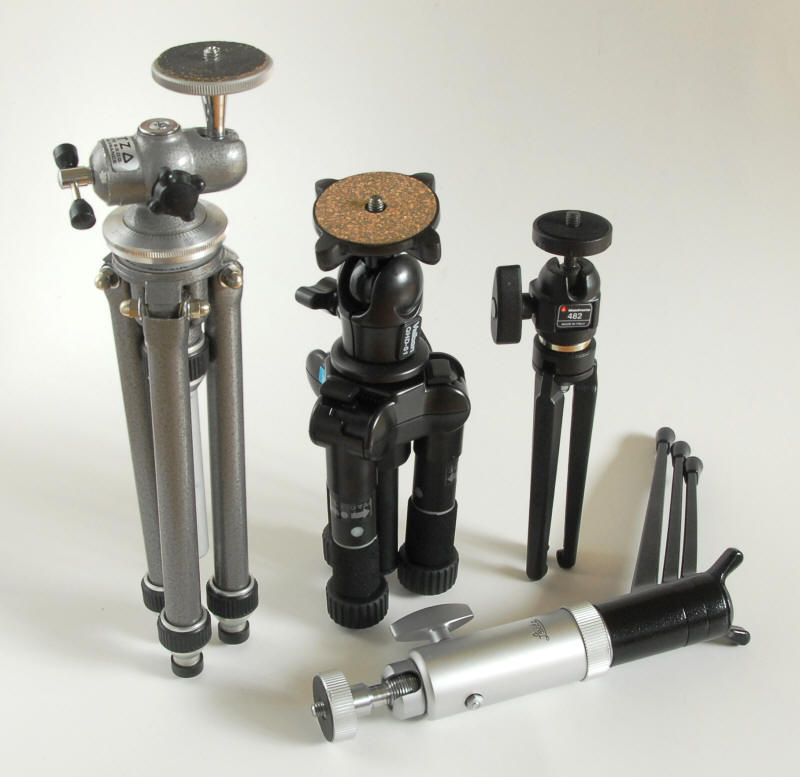 | | | | | |
| --- | --- | --- | --- | --- |
| << TRIPODS >> | Folded length | Minimum height | Maximum height | |
| Gitzo (France) | | | | |
| Velbon ULTRA MAXi mini + QHD61 head | | | | |
| Manfrotto 482 (Italy) | | | | |
| Leitz Tabletop Tripod + Ball-and-Socket Head (Germany) | | | | |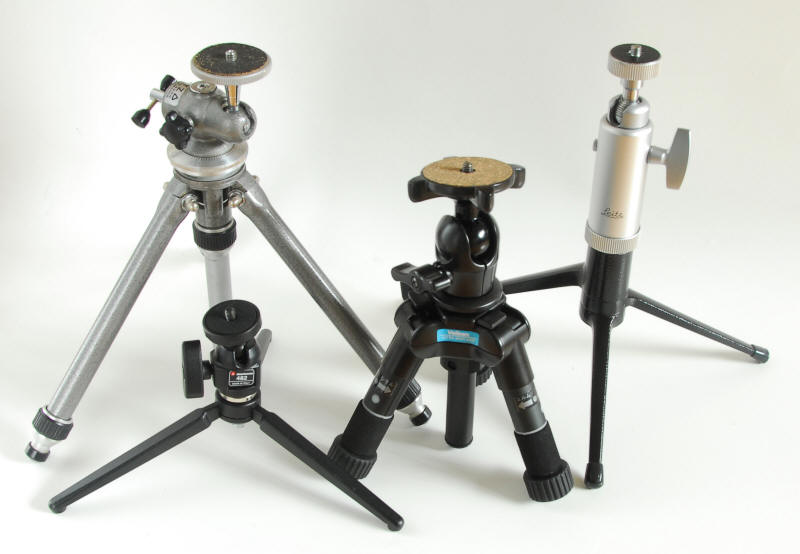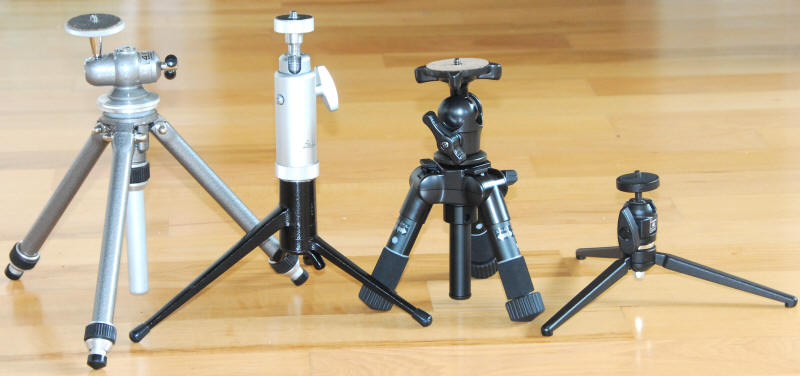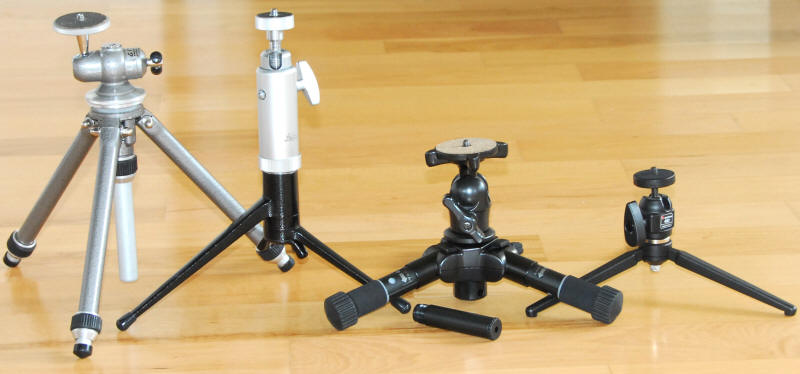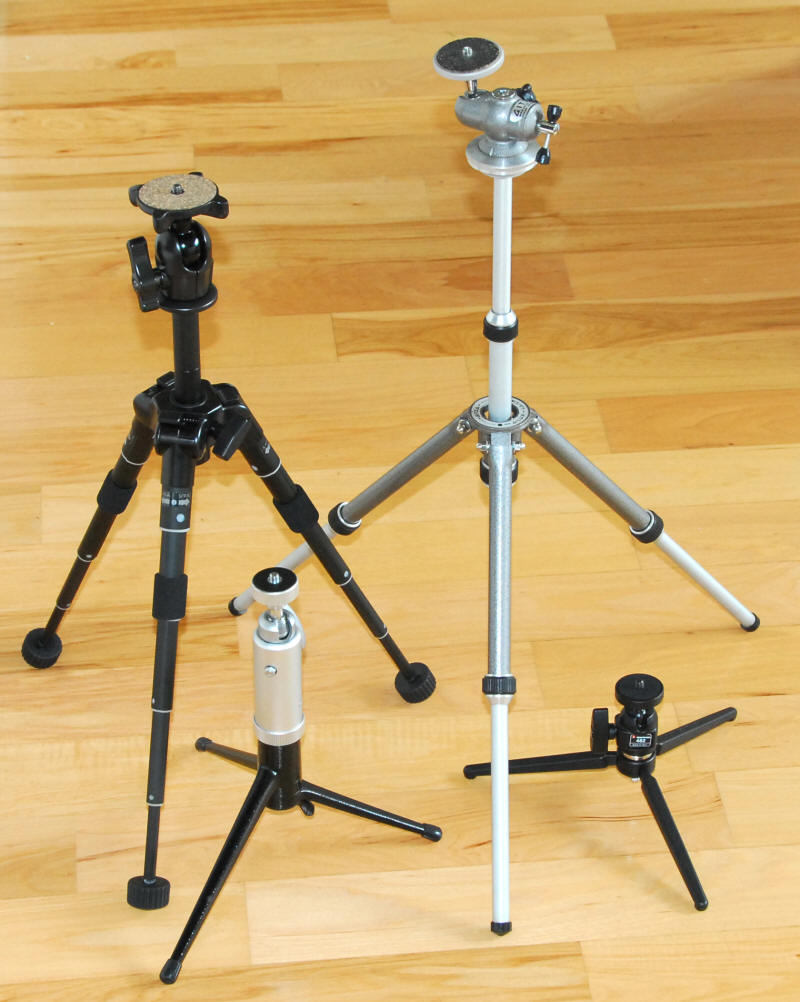 Gitzo (made in France)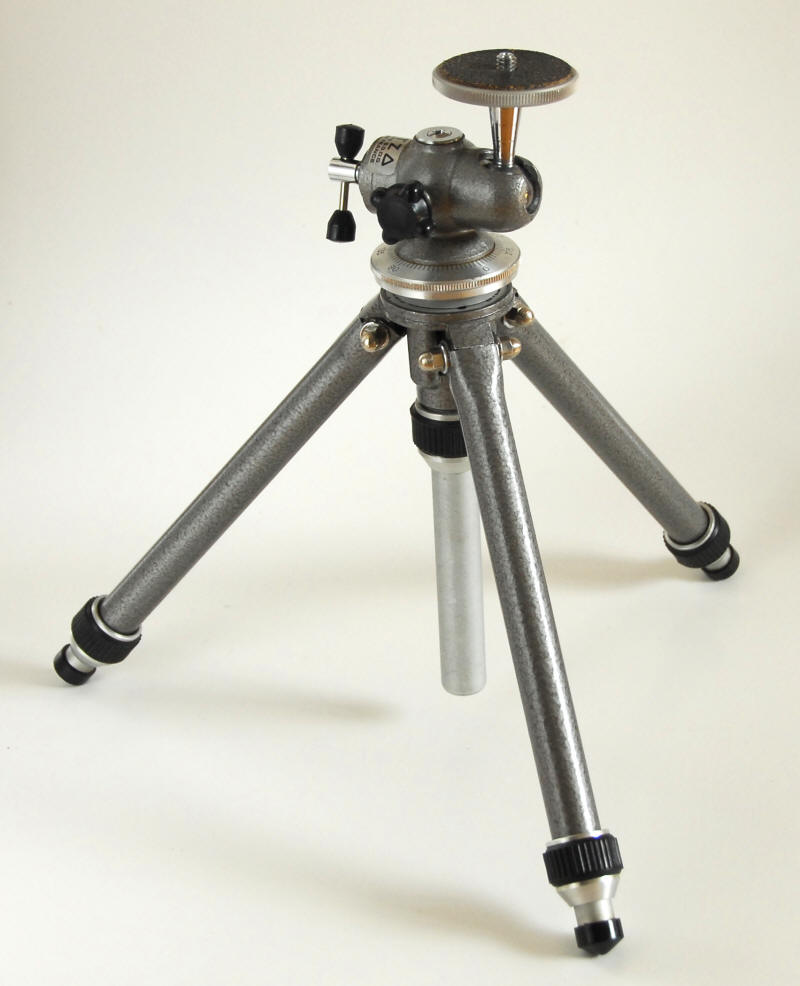 Velbon ULTRA MAXi mini + QHD-51 head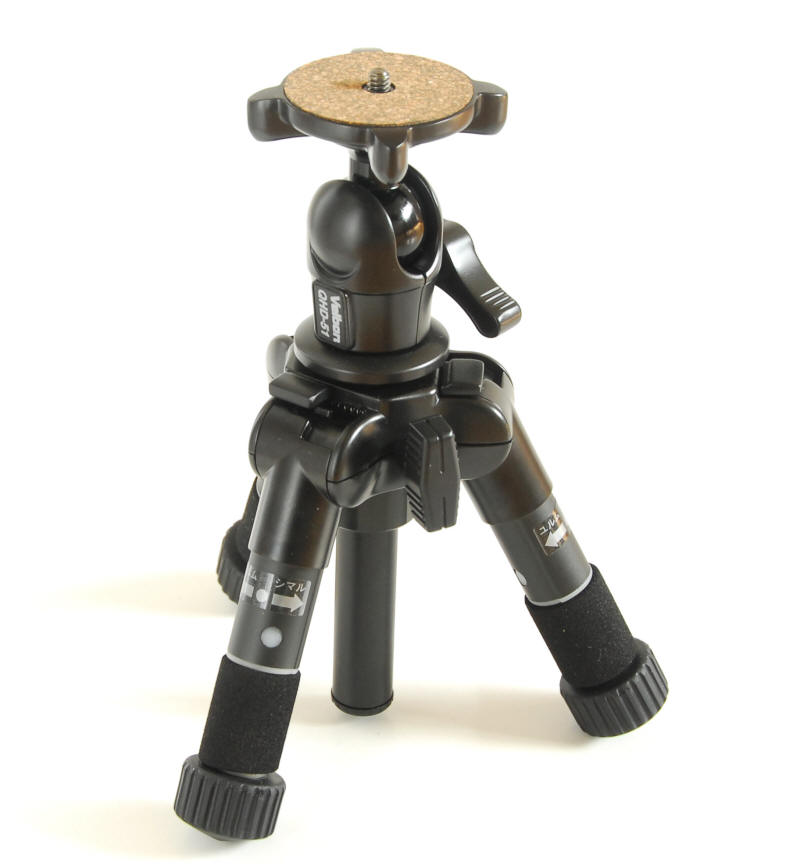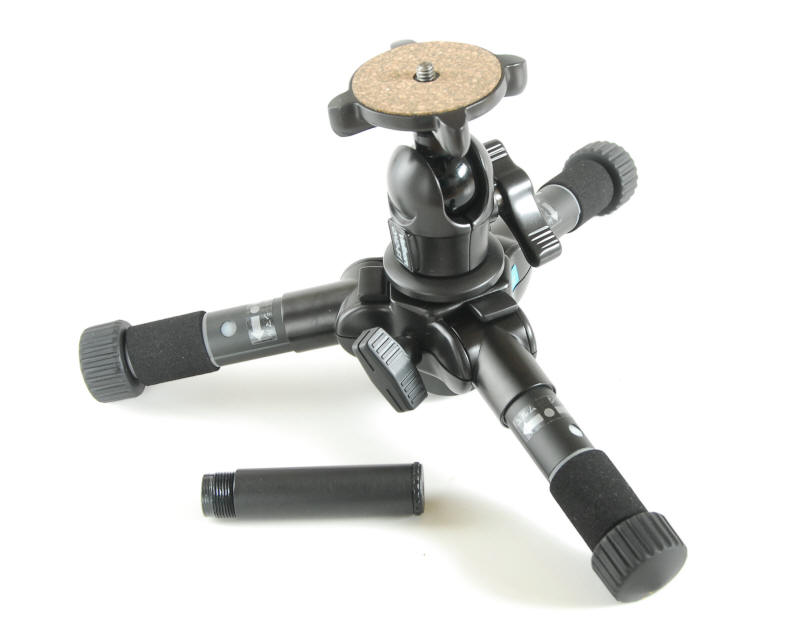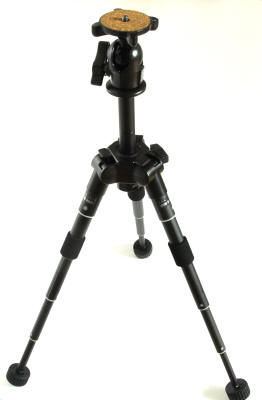 Manfrotto 482 (made in Italy)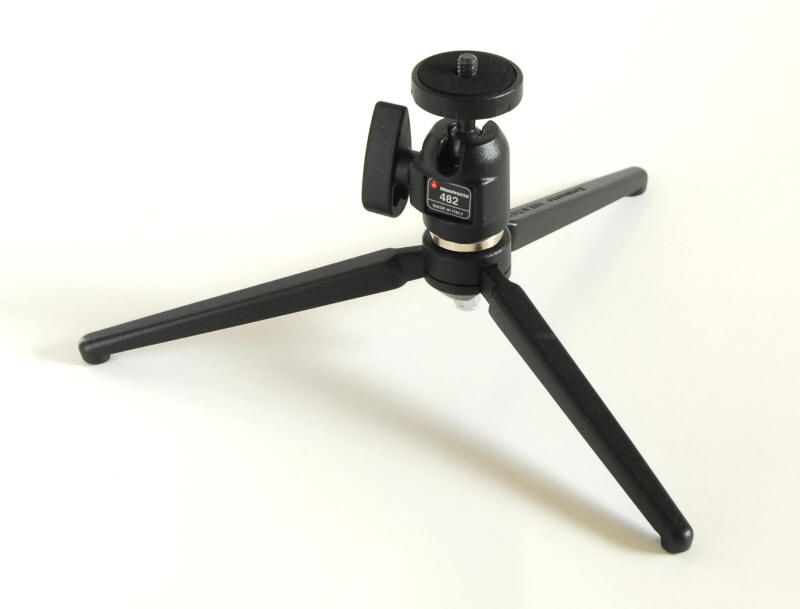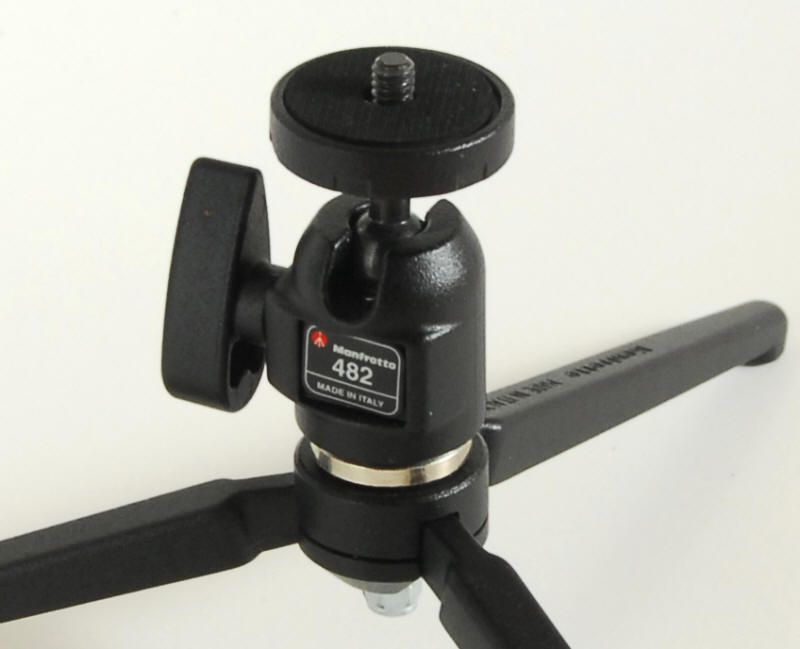 Leitz Tabletop Tripod + Leitz Large Ball-and-Socket Head (made in Germany)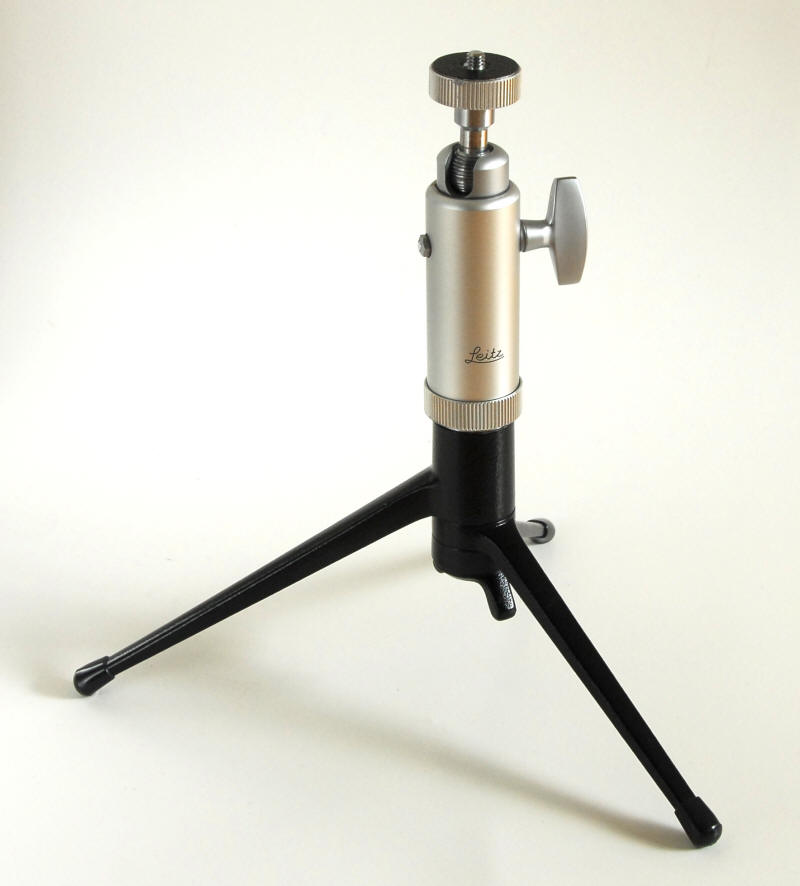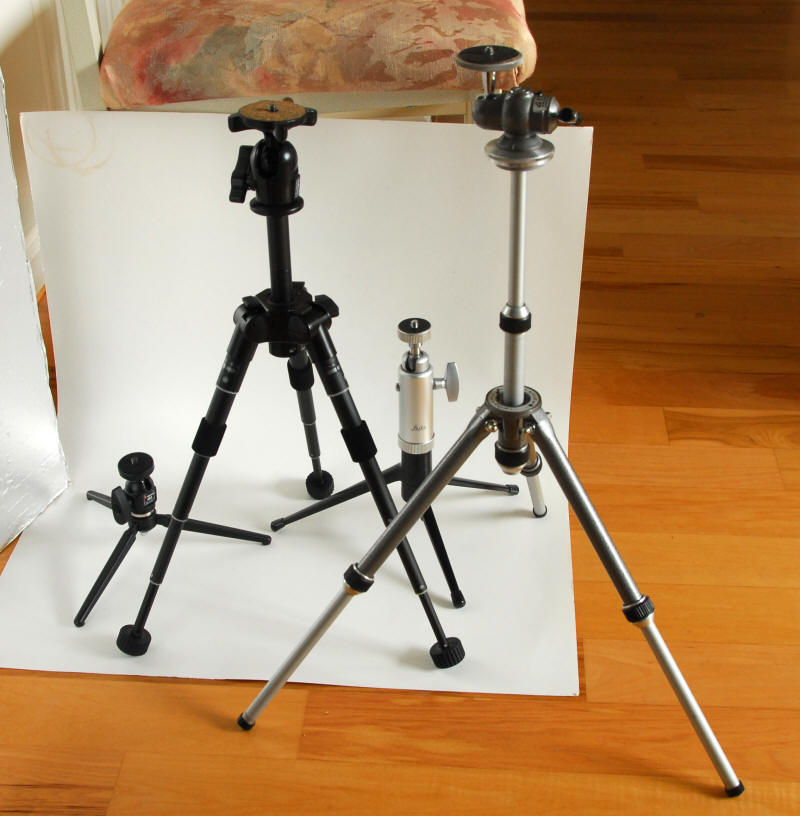 Photo below by Nikon D200 + AF Nikkor Zoom 18-200mm F3.5-5.6
@ 18mm, f3.5, Exposure Mode Manual, 2/3 sec, Exposure compensation -2.7, ISO 100, WB Incandescent light
I could have made this shot by room lights only, but I wanted a slight addition of the cooler light. So I used the on-camera flash, with my diffuser. The TTL Flash control logic of the modern camera is quite complex and the result very difficult to predict. In this case the subjects got too harshly illuminated. So I used the exposure compensation of -2.7. The camera setting was manual (M), so the background was not altered from my setting of f3.5 aperture and 2/3 second shutter speed. Focusing was so difficult. I attempted manual focus, but I missed all the shots. I finally used the dynamic focus area control to place an active focus area on one of the tripod's head, so that I do not have to focus and then reframe. I tried different combinations of background exposure and flash. The picture below is the closest to what I intended to create: A warm room lighting and the subjects standing out slightly. My D200 flash diffuser came in pretty handy and worked well. Click photo for the original JPEG image.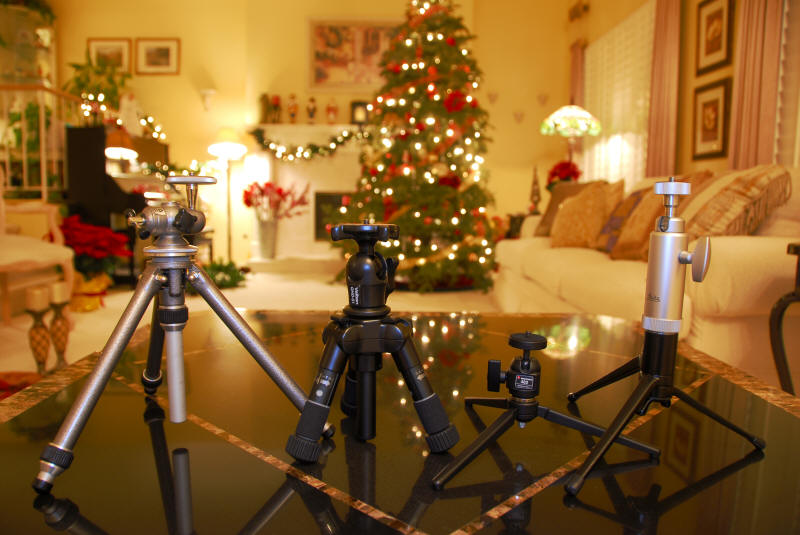 Carnivorous Plants Photography Web Site:

Copyright © 2001-2018

Makoto

Honda. All Rights Reserved.